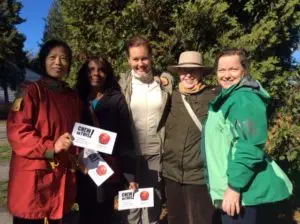 Canada Without Poverty is a small organization with a big mission: ending poverty in Canada. We rely on volunteers to help sustain our work – join us and join the movement to eradicate poverty in Canada!
In the past our volunteers have provided editing and translation support, helped manage social media accounts and plan events, and assisted with general office administration.
Volunteering is not only beneficial to us, but it's also incredibly rewarding for those who contribute their time. If you are passionate about anti-poverty, human rights and social justice issues, volunteering with Canada Without Poverty is a fantastic way to push for change at the national level! There could be opportunities to collaborate amongst government officials, other civil society organizations, and people experiencing poverty first-hand.
What type of volunteer opportunities are available?
Our regular volunteer opportunities include but are not limited to:
research
translation
legal education
web design/development
communications
fundraising
office administrative tasks
We are open to suggestions if you have particular skill or ability you think would benefit Canada Without Poverty. Please let us know in your application form.
When can I volunteer?
We have a very flexible approach to volunteering at CWP – there is no minimum time commitment. Volunteers are scheduled between 9am and 5pm at the individual's convenience. We currently do not have regular evening or weekend opportunities available. However, if you would like to volunteer with us remotely via online channels, please indicate so on your application form.
Volunteers are not required to provide a police records check.
If you are interested in volunteering with Canada Without Poverty, please fill out an application form and send it along with a copy of your resume to info @ cwp-csp.ca.