Every winter, the same story runs again in news outlets across Canada, the United States, and Europe: "Four homeless people die of exposure" and "Homeless Man Dead of Hypothermia". Every year, homelessness advocates warn of the dangers of extreme cold.

Every year, communities issue calls for urgent action and open emergency shelters. And every year, the tally continues to rise on the number of preventable cold-weather deaths across the world.
In just the last few weeks a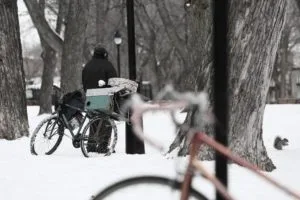 lone, a number of people experiencing homelessness have died from the cold in Portland, Alaska, Vancouver, Winnipeg, and Italy. These deaths are followed by, most incomprehensibly, the tragic story of a newborn dying from cold exposure in the United States.
As CWP's Executive Director, Leilani Farha, wrote in 2015, "[n]one of these deaths make sense. Winter is, after all, a cyclical thing: not only expected, but guaranteed." Every time a homeless person dies from the cold, we have failed.
Of course, cold is not the only risk facing people experiencing homelessness, and the dangers don't disappear when winter does. There are high-profile stories of incidents of unfathomable violence against homeless people, even here in Canada, and a 2011 study found that 40 percent of people living on the street had been physically assaulted in the previous year. Research in the United Kingdom from that "[e]ight out of 10 rough sleepers reported being victims of a range of crimes and antisocial behaviours, from vandalism and intimidation to being hit, kicked, threatened or urinated on". The life expectancy for the average Canadian is 77 to 82 years; for a homeless person, it is only 34 to 47.
The violence and harm facing street-involved people is just one of the myriad reasons we need to end homelessness and poverty – a more complex, but vitally important task that lays ahead of us. But the reality that winter comes every year and with it, the possibility that people will die easily preventable deaths, brings an extra layer of frustration.
And yet, for policy makers in Canada, there remains a disconnect between the urgency of ending the conditions that lead to these deaths and the government's most critical priorities. This point featured in the United Nations Special Rapporteur on the Right to Housing's recent report on the Right to Life which states: "[t]he failure of States to address systemic deprivations of the right to life tied to poverty, grossly inadequate housing and homelessness have not received the same attention. The urgency and outrage that should be provoked in response to the conditions in which millions of people are forced to live seem to have gone missing; so too has the political will to address those conditions."
The City of Toronto recently announced that it has begun an expanded monitoring system to track the deaths of homeless people, to help "measure how well [they] are responding to the problem and to identify whether additional efforts are needed to reduce what is an important health inequity".
There is value in tracking and analyzing incidents such as these. But more than that, our governments have an obligation to fulfill the human rights of people in Canada – of which the right to housing as it intersects with the right to life is among the most vital.
The tireless work of homelessness advocates, shelter workers, and service providers through the winter months is essential to manage this crisis as it stands before us right now. However, it is only through comprehensive policies and programs that address the homelessness and housing insecurity crisis that we will be able to finally put an end to the tragedy of headlines like these: "Family, friends question why Saskatoon woman froze to death".
Laura Neidhart is the Development & Communications Coordinator for Canada Without Poverty.