At a time of increasing economic inequality, the 2017 Alternative Federal Budget (AFB), released today, makes it clear that the federal government cannot wait to implement changes which could transform Canada's economy.

The AFB is a collaborative effort led by the Canadian Centre for Policy Alternatives (CCPA) with contributions from Canadian civil society organizations including Canada Without Poverty. This year's report focuses on a theme of "High Stakes, Clear Choices", and emphasizes the need for a federal shift from the rhetoric of equality to a clear plan of implementation through both revenue generation and spending.
The data is compelling. More than half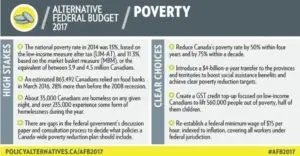 of all First Nation children live in poverty. Women, racialized people, and newcomers are more likely to be living in poverty; poverty rates also skyrocket for those living with disabilities and single mothers.
To address the crisis levels of poverty and homelessness across Canada, the AFB proposes policies and programs to lift the most marginalized out of poverty through measures like the  introduction of a federal minimum wage.
Establishing a federal minimum wage of $15 an hour, indexed to inflation, would ensure that no worker would find themselves living in poverty while working a full-time job.  This recommendation comes as a response to statistics which reveal that the majority of those in poverty are not on social assistance benefits, but rather are involved in the formal economy. By lowering the eligibility requirement for employment insurance, this plan would also protect an additional 250,000 workers in precarious, contract, and part-time jobs from economic downturns.
The AFB tackles the intertwined issues of income inequality and redistribution in Canada, calling for a shift towards fiscal policy that targets tax loopholes that exclusively benefit large corporations at the expense of low- and middle-income workers.  Through policy solutions such as affordable, accessible childcare, a national pharmacare plan, the elimination of tuition fees, and progressive taxation, the AFB proposes a budget where services largely outweighing any tax increase individuals may face under the plan. These programs, among others, would provide a net benefit for 90% of Canadian families.
Bold policy recommendations illustrated by the AFB would lift one million people in Canada out of poverty and will include the voices of those who have lived experience of poverty in decision-making.
We hope that the government will be listening. Budget 2017 presents a prime opportunity to place the government's human rights obligations at the heart of social policy and shift the momentum for policies that prioritize the most marginalized.