Does this sound familiar to you: "the only reason that poor people are so unhealthy is that they don't know how to eat a healthy diet"?

Unfortunately, here at Canada Without Poverty, we've also heard sentiments like this from policy makers, the media, and members of the public far too often. But did you know that in addition to being a stereotype, this type of prejudice can actually limit how people living in low income in Canada access food, including what types of food are available to them?
Kelly Hodgins, a researcher with the University of Guelph, has studied the negative stereotypes people in Canada have about people living in poverty and low income – including that they lack knowledge about healthy food, make poor choices, and have less desire for nutritious foods. Her research suggests that these stereotypes contribute to systemic food inequality for people living in low income neighbourhoods.
This prejudice is even more concerning at a time when, globally, we are beginning to understand how consumers can be susceptible to industry-driven marketing of unhealthy and quick foods.
In reality, the food insecurity research group PROOF has also found that there is little difference between food secure and insecure households in skill areas like food preparation and ability to cook. Hodgins' research has also looked at access to "ethical" food – citing food insecurity as the major reason why such foods are accessible primarily to wealthy people in Canada and not to lower income communities.
The relationship between how people in Canada view their neighbours who are living in poverty and our failure to adequately address poverty in national and municipal policy is not strictly limited to food access and eating habits – but food insecurity acts as a strong indicator of overall poverty.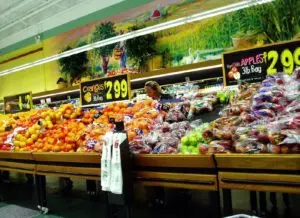 Across the country, 4 million people experience food insecurity and this number is on the rise: 8 out of 10 provinces saw an increase in food bank usage in 2016.
Food insecurity is even more severe in Canada's Northern communities. Exacerbated by geographic isolation, transportation costs, inadequate services, and staggering intergenerational poverty, Nunavut has the highest rates of food insecurity in the country. 2 in 5 households are food insecure, with residents spending two times more on food annually compared to the rest of Canada.
Food banks are playing an increasingly prevalent role for families in communities across Canada. And while food banks provide a critical role in addressing the emergency of hunger and food insecurity, more upstream action is need on the part of the government to make sure every family in Canada has access to food beyond stop-gap measures. In fact, as a food bank operator recently stated: "[we should] be asking why the onus to help vulnerable people has gradually shifted from the government and settled on to the shoulders of the community".
In a recent article, Hodgins said this: "policy changes are necessary to make healthy food affordable (without putting farmers out of business) and to lift all Canadians to a point where they can afford to buy it. But such policy change requires a shift in societal attitudes, where Canadians demand that food should be a right".
In the midst of this critical discussion on food insecurity, Canada is taking the first steps towards a National Food Policy aimed at setting a strategy for the food and agriculture industries while also tackling the high rates of food insecurity in Canada. People in Canada are able to participate in this survey for the policy by August 31st and share their perspectives on how Canada can create sufficient access to safe and healthy food for all communities.
In addition to contributing to consultation surveys with the government, there are more opportunities to support social change.
The co-leads of the Dignity for All campaign – Canada Without Poverty and Citizens for Public Justice – coordinate ChewOnThis! every year on October 17th, the International Day for the Eradication of Poverty. This campaign helps people across the country engage with the federal government and call for a national anti-poverty plan that centres human rights – including the right to food. To learn more and sign up to host your own event, click here. 
In reality, it's only through upstream solutions to food insecurity that we can begin to address the incredible barriers to health faced by those in poverty. It's time to tackle these food stereotypes head on and move forward to create real change in Canada.
Laura Neidhart is the Development & Communications Coordinator for Canada Without Poverty.