This past weekend, news coverage in North America was dominated by the devastation unleased by Hurricane Harvey in Texas. Images on television and social media showed alarmingly high waters, stranded people, and the total destruction of homes.

Inextricable from the impacts of disaster, war, political instability, and violence is poverty. As we've seen with Hurricane Harvey, it is always the most vulnerable and marginalized communities who are hit the hardest.
The long-term effects of Harvey for our neighbours to the South is as of yet unknown, but estimates place the total cost at $30 billion, with many uninsured Texas households suffering great financial distress on top of the trauma of death, injury, and loss.
Many residents in the path of Harvey lacked the resources and ability necessary to evacuate, and people in poor neighbourhoods in Houston and surrounding areas live in homes often built on flood zones and lacking wastewater infrastructure. How can you flee a hurricane with no car, no money for a bus ticket out of town, and nowhere to stay once you leave?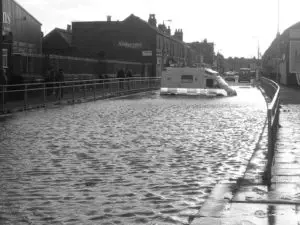 Similar examples of the impact of disaster – either natural or human-caused – exist here in Canada, too. Many of the Haitian migrants who have recently crossed the US-Canada awaiting the asylum process in Cornwall, Ontario and Montréal are victims of disaster, having fled their homes because of the destructive 2010 earthquake – either immediately following the destruction or due to the ensuing economic breakdown. As with almost all refugees, they left Haiti with very little personal possessions, facing poverty and hardship upon arrival to North America.
A recent article published in the Toronto Star shed light on the lives of Holocaust survivors now living in Canada, and still experiencing overwhelming poverty. Shockingly, the article revealed that one quarter of Canada's holocaust survivor population lives in poverty. While conditions of isolation, loss of independence, and unstable financial resources from a lifetime of uncertainty are not limited to survivors – indeed, nearly 15% of elderly single individuals live in poverty – the alarming statistics of survivors in poverty reveals the long-term the impact of tragedy.
Particularly for those in British Columbia and Alberta, the impacts of poverty have become increasingly apparent in the context of devastating forest fires. In 2016, wildfires ravaged 500,000 hectares of Alberta in Wood Buffalo and Fort McMurray, destroying nearly 10 percent of the city, including 1,800 single-family homes and displacing 80,000 people. The fire had a significant impact on low-income households without the resources to replace lost belongings. In response, the government distributed one-time debit card relief funding, which provided $1,250 per eligible adult and $500 per dependent child. The overall cost of the fire is still being calculated, with estimates from earlier this year placing the expense of replacing buildings and infrastructure as well as lost income and profits in the oil sands and forestry industries at nearly $10 billion – with the long-term social and economic impacts yet to be seen.
The major flooding of the Outaouais and Montréal is another recent example, with historic flooding displacing people from their homes and causing enormous damages. The governments of Ontario and Québec were quick to establish compensation schemes for impacted communities following the emergency, but for many low-income families – already facing uninhabitable or deteriorating conditions in their homes – there is fear that the compensation won't be enough to rebuild – and if they can't, the question is: "Where do we go?"
Disasters and upheaval in Canada and around the world can't always be predicted, planned for, or avoided, so what can we realistically do? A good place to start is the creation and implementation of policies, laws and programs that focus on prevention of poverty and homelessness – laws that are grounded in a human rights approach.
To be clear, recognizing the right to housing in a rights-based approach does not mean the government is immediately responsible to provide a home when someone's life is devastated by tragedy. Instead, a human rights approach means that the government has to be reasonable in the way they respond to these disasters – and, at the very least, they have to listen and provide a response. For example, if Canada were to have a human rights approach in polices like the National Housing Strategy, it could mean they are responsible for providing emergency services and working directly with those impacted to find the best solutions to re-build their lives in a way that best serves entire communities.
When disaster strikes, it's those who are living in poverty and low income who face some of the worst repercussions. But if we work together with governments recognizing the human rights of those who are already marginalized, we can be better prepared together. 
Laura Neidhart is the Development & Communications Coordinator for Canada Without Poverty.