Canada Without Poverty and Away Home Ottawa have developed an ongoing program series focusing on youth homelessness and the right to housing. This month, we're featuring a series of guest blogs from our partners and youth participants to share their perspectives on the right to housing for young people in Canada.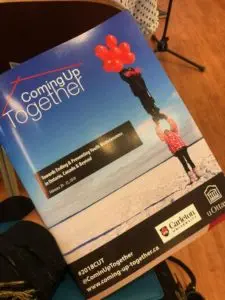 This week, placement students from Canada Without Poverty (CWP) are attending Coming Up Together 2018 (CUT 2018). CUT 2018 is a three-day conference for youth, community workers, academics, and policy experts on ending youth homelessness in Ontario. The title of the conference – Coming Up Together – centres youth voices above all others as we explore issues around housing that pertain to young people specifically.
The conference began with a panel discussion on "Housing as a Human Right", thereby introducing a human rights framework for attendees to ground their work. It was also a good reminder that poverty and homelessness in Canada are a violation of fundamental human rights.
Every young person, regardless of their circumstances, deserves access to adequate housing and to be free of homelessness – this is a right, not a privilege. Homelessness is not a singular issue we can solve by simply providing more stop-gap solutions like shelters or soup kitchens. Eradicating poverty can only occur through true systemic change via federal legislation.
As a student studying social work, I attended the first day of the conference full of questions I have been reflecting on since I began my placement at CWP. Through my placement, I have learned so much about the critical need for a human rights approach to poverty reduction, and have helped produce reports intended to educate the public on poverty issues in Canada. While I am thoroughly engaged and thrilled to be doing such important work, I wonder what my day-to-day responsibilities to eradicate poverty should look like. In addition to understanding the structural barriers limiting the rights of youth facing homelessness, how do I employ a rights-based framework in my everyday activism? As a prospective frontline social worker, how do I ground my practice within a human rights approach?
At CUT 2018, I found the answers I was looking for. By listening to community organizers, frontline workers, researchers, and youth who have experienced poverty, I learned that a human rights perspective requires us to see young homeless people as deserving of dignity.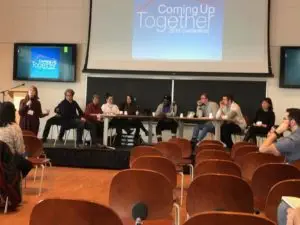 This means that educators, social service providers, policy experts, and whoever else is dedicated to helping homeless youth in Canada must give homeless people the autonomy and agency to make their own decisions about their lives. A major obstacle homeless youth face is that their voices and concerns are often dismissed by people who think they know better. Imagine that: someone else – a stranger, a worker, an agency – thinking that they know better than you when it comes to your own life and future. How would you feel if someone made an important decision about your life without consulting you first? It is crucial that youth are asked what they want. They must have the freedom to share and receive information, be informed, and do as they will.
Treating homeless people with respect is of the utmost importance. We must not ignore them on the streets, but treat them with dignity and as rights-bearers. We must have conversations with them, listen to them, and above all else, commit to a human rights approach in our day-to-day activism.
Roshney Kurian  is a Placement Student at Canada Without Poverty in the Carleton Bachelor of Social Work program.