Canada Without Poverty and partners have developed an ongoing program series focusing on youth homelessness and the right to housing. This month, we're featuring a series of guest blogs from our partners and youth participants to share their perspectives on the right to housing for young people in Canada.

Imagine being 17 or 18 and living on your own in Ontario. Maybe you are new to Canada, Maybe you have had to leave your family because of a conflict, or maybe you're aging out of care.
You're looking for a place to live (your first apartment on your own), and not only is everything expensive, but lots of rental ads imply that youth shouldn't bother applying. Ads say things like "ideal for a mature, working couple," "suitable for a single professional," or "proof of full time employment income required."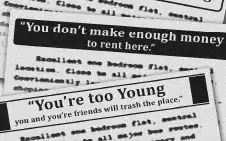 If you're lucky enough to find a place you can afford and arrange a viewing, even the application process is overwhelming.  What are the rules? Is the landlord allowed to ask for proof of your income? Can they ask for a financial deposit for just submitting an application?  Are they allowed to ask questions about your relationship status? Can they deny your application because you are 17 years old?
And you have to figure out all of this while staying in a shelter.
S, a young woman who identifies as racialized, a newcomer, and transgender, ended up in a shelter after arriving in Canada as a refugee. She says:
"I packed up and came to Canada, left my family, friends, everything I loved and was familiar with. I was on my way to independence and freedom. Unfortunately, it was the beginning of a crazy spiral. Prior to coming to Canada, I thought everything would be easy. I promised I would never be in a shelter. I had lots of ideas about shelters, and that they were for people that have nothing. But I did end up in one. It was during this time that I really got to see Canada for Canada."
S expected better from Canada. At the very least, she expected that she wouldn't face discrimination from landlords because of her age or her race. She expected she wouldn't have to experience the indignity of relying on shelters for a roof over her head.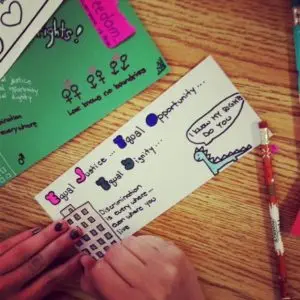 Don't believe that youth housing experiences are this bad? See our previous post for more about the shocking experiences of young renters in Ontario.
Through our Know Your Housing Rights workshops, the Centre for Equality Rights in Accommodation helps youth who know homelessness to understand the systems and laws that shape their housing experiences, and how to identify when their legal rights are being violated. We work to demystify legal processes so that youth can claim their rights, through facilitating real conversations and engaging activities . We work to remind youth that homelessness and experiences of discrimination are not their fault.
Knowing our rights isn't the solution to discrimination and homelessness in Canada. But it is part of the solution. When we are able to identify and name injustice, it gives us options.
CERA envisions an Ontario where every person realizes their housing rights, is treated with dignity, and lives free from discrimination in a stable, safe and affordable home.
Our goal in 2018 is to build awareness among youth that the way the housing system operates today isn't the only way it can operate. It is possible to end homelessness, and to create a housing system that respects the dignity of all people in Canada. When we all know our rights and have support to claim our rights, systems can change.
Check out our awesome supporting partner, Stories of Ours, a group that challenges dominant narratives through the sharing of stories.
Have questions about your housing rights?
Call CERA. Or chat with us online.
It's free. 1-800-263-1139.  facebook.com/CERAOntario