Today, the Government of Canada launched its Dimensions of Poverty Hub, an online platform introducing statistics on the realities of poverty in Canada for the millions of people experiencing it.
The Poverty Hub includes the dashboard of indicators including food insecurity, literacy, median hourly wages, and other measurements that anti-poverty organizations like CWP have long been calling for.
And while a central location for data is a step forward for the fight to end poverty, the Poverty Hub's launch also illustrates what data is still missing in Canada. Food insecurity numbers in the hub reflect outdated information from 2011-2012 – nearly a decade ago –   as we await more recent information. 
Despite recommendations by many international authorities – including the Committee on the Elimination of Racial Discrimination – much of the data collected by Statistics Canada is not disaggregated based on race, disability, or other intersectional identities. The lack of this crucial data means it's very difficult to create policy addressing the disproportionate experience of poverty for marginalized groups; like Indigenous peoples, persons with disabilities, and newcomers.
Along with many other civil society organizations across the country, CWP has serious concerns with the validity of the methodology for the newly designated official poverty line. The data from the official poverty line is based on and measured by the Market Basket Measure (MBM) – a measurement based on various baskets of goods that price out the cost of living that was estimated over 10 years ago. This same measurement doesn't capture poverty in Canada's North, where some of the most significant rates of poverty exist, particularly for First Nations, Métis, and Inuit persons. Statistics Canada is currently updating their methodology but until this process is complete, this information does not have the backbone to accurately reflect poverty in Canada. And without an accurate picture of poverty, our policies, laws, and programs won't have the necessary means to eradicate it.
But we aren't the only ones bringing up these concerns. In fact, 93 percent of participants in the MBM consultation said the housing shelter allocation was too low. For context, this methodology relies on an estimate that a two-bedroom apartment in Vancouver costs $1,400 per month, whereas a recent Pad Mapper survey showed the cost of a two-bedroom unit in the city at $3,200 per month. 
However, with this announcement and roll-out of the Hub, the federal government is taking a step that will assist in filling the data gap that has seriously impeded progress on poverty for over a decade. 
The federal government has committed to a soon-to-be announced poverty advisory council. If this council is truly independent, adequately resourced, and given authority, it will play a critical role in ensuring these figures lead to human rights action and, further, that the government is truly accountable to people living in poverty.
The release of this Poverty Hub is a sign of progress for the country's poverty reduction plan, but in order to meet Sustainable Development Goal 1  – ending poverty around the world – Canada has much further to go. At CWP, we will continue to ask: what's next?
We are eagerly awaiting further information from the government regarding how this data will be used to take immediate action on poverty.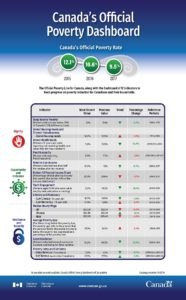 Statistics Canada Poverty Dashboard found here.