CWP is pleased to announce our latest publication: Human Rights and Poverty Strategies, A Guide to International Human Rights Law and its Domestic Application in Poverty Reduction Strategies.
For over 4.8 million people in Canada every day, poverty is a reality; a struggle to find employment, to pay rent, to put food on the table and to generally make ends meet. Poverty is defined at an international level as the denial of fundamental human rights that are inherent to every person.
With the absense of a federal strategy to address poverty, provinces, territories and municipalities have stepped up with poverty reduction strategies in their communities. While these strategies may boast varying degrees of success, none have proven to be transformative nor have any come close to 'solving' the poverty problem. Many of these plans address the costly problem of poverty, but fail to recognize the role of international human rights in poverty reduction strategies on the local level.
The strength of human rights is that they are transformative. Human rights moves the conversation away from the traditional approach of viewing poverty reduction as an act of charity to an approach that sees poverty reduction as justice.
The purpose of this Guide is to introduce the people doing this work — from policymakers to frontline workers — to the human rights approach to
poverty reduction. The Guide answers questions like "How are human rights relevant to my work?", "Why is the human rights approach the right approach?" and "What is the human rights approach to poverty reduction?".
Check out the full guide below. If you have questions about the Guide and whether it can be used in your community, please email Michele at michele[at]cwp-csp.ca.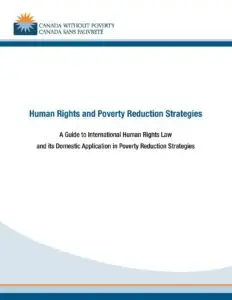 We are grateful for the generous support by the Law for the Future Fund of the Canadian Bar Association for this project.