Between the Fall Fiscal Statement and the release of Census 2016 data on housing affordability, it's been an eventful and busy time here at Canada Without Poverty (CWP). With everything going on, we wanted to break down some key takeaways and highlights to help you make sense of all the news this week.

Government's Fall Fiscal Statement: CCB and WITB
On Tuesday, the Government announced a fiscal update on their intention to strengthen the Canada Child Benefit (CCB). Key pieces of this update include a plan to index the CCB to the cost of living two years earlier than originally planned. Effectively, this means that the first increase will occur in July 2018. The change will bring the maximum amount of the benefit for a child under the age of six from $6400 to $6496.
At CWP, we welcome this increase as the benefit is a valuable program for many low-income families across the country. However, along with many other civil society organizations, there's a couple of important things to keep in mind around the CCB:
The CCB is only accessible to people who file taxes, which has already resulted in thousands of dollars in unclaimed benefits, particularly in First Nations and Indigenous communities.
The CCB is not protected by conditions, meaning it could be subject to "clawbacks" by provincial and territorial governments. In effect, this means that it is possible that people who qualify for the program because they live in poverty could be penalized if they are already receiving other assistance.
While the CCB is a great tool for helping families, it cannot be a stand-in for a comprehensive anti-poverty plan – nor is it the solution to Canada's affordable childcare crisis. When families in Toronto are paying over $1600 per month on infant care and the waitlist for subsidized childcare spaces is over 14,000, the CCB alone is insufficient. You can read more about this in our press release.
The other key income piece of the announcement on Tuesday included changes to the Working Income Tax Benefit (WITB), a tax credit for low-income workers. In 2019, the Government plans to increase the maximum amounts for the WITB for both individuals and families, as part of a program to offset employee contributions to the Canada Pension Plan. The Government has said it will announce more about the changes to WITB in Budget 2018.
As with the CCB, an increase to the WITB will benefit many families and individuals living in low-income, but would be strengthened significantly through implementation of better protections and opportunities for workers in Canada, including minimum wages that meet living expenses and the creation of good quality jobs, rather than a reliance on precarious jobs.
2016 Census Data on Housing & Aboriginal Persons
On Wednesday, Statistics Canada released more data from the 2016 census, including information on housing, Aboriginal peoples, and immigrants and newcomers. While there's a lot of information to sift through with each census data release, here are the key points on the poverty and housing front: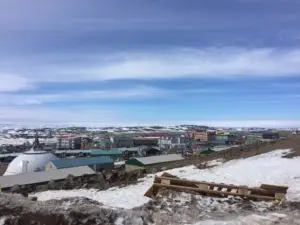 The number of households spending 30% or more of their income on shelter costs – what the government deems "not affordable"—has dropped from 24.4% to 24.1%. Unsurprisingly, the cities with the highest rate were Toronto and Vancouver, where over a third of households were facing high shelter costs, which include mortgage payments, rent, the cost of electricity, heat, water and other municipal services, property taxes, and  condominiums fees.
Statistics on housing for Canada's Aboriginal population as defined by the census – which includes First Nations, Métis, and Inuk peoples– also remain dismal. The information released showed that one in five Aboriginal people live in a dwelling that is in need of major repairs, jumping up to one in four for people living on reserve.
Close to one-fifth (18.3%) of Aboriginal people live in overcrowded housing, or housing that wasn't suitable for the number of people living there. Inuit peoples living in Inuit Nunangat – territory that includes Nunavut, parts of Northern Québec, coastal Labrador, and the Northwest Territories – are much more likely to be in overcrowded housing at a rate of 40.6%.
Given these numbers, we await the announcement from the Government on the development of a rights-based National Housing Strategy (NHS) and increase federal investment in housing.
Want to stay updated on what's happening on the national poverty and housing front? Sign up for CWP's e-newsletter here!