This past Saturday,  millions of women, men, and families in communities around the world — from New York City to a village of 65 in Nova Scotia — mobilized to march for women's rights and against bigotry.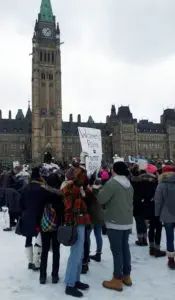 While the impetus for the first Women's March was tied to rejecting sexism and racism in the face of the inauguration of President Donald Trump, people have made this an annual opportunity to advance women's rights and equity around the world. 
We often repeat the phrase, "Poverty is sexist." What we mean is that poverty disproportionately impacts and harms women, particularly women with disabilities and racialized and Indigenous women.  
To truly eradicate poverty, it is crucial to examine the structural causes through a gendered lens. We have to address why women are more likely to be in minimum wage and precarious jobs – jobs without long-term security, reliable pay, benefits, or opportunities for growth. We have to create effective solutions for women parenting on their own, who enter shelters at twice the rate of two-parent families. We must work to end family and intimate partner violence, which impacts millions of women in Canada and frequently forces them into homelessness.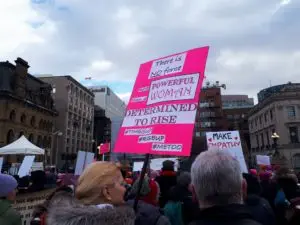 And we must take seriously how homelessness, income insecurity, un- and underemployment, and food insecurity disproportionately harm women from marginalized communities. Racialized women earn 32% less at work while 36% of Indigenous women and 33% of women with disabilities live in poverty.
The women's movement is more energized than in years past. Some of the staff from Canada Without Poverty attended the women's march in Ottawa this past Saturday. At the march, the crowd heard from women representing the diversity of Canada, including immigrant women, First Nations and Métis women, and Muslim women. We believe in the importance of the First Voice, and it is critical that the voices of these women are at the forefront of all conversations on how to create policy, programmes, and practices to eradicate poverty.
It is not enough to simply have the window-dressing of political leaders who identify as feminist and acknowledge that poverty is sexist. We need all levels of government in Canada to support women's access to affordable childcare, good jobs, paid leave for victims of family violence, and more.
Laura Neidhart is the Development and Communications Coordinator for Canada Without Poverty.